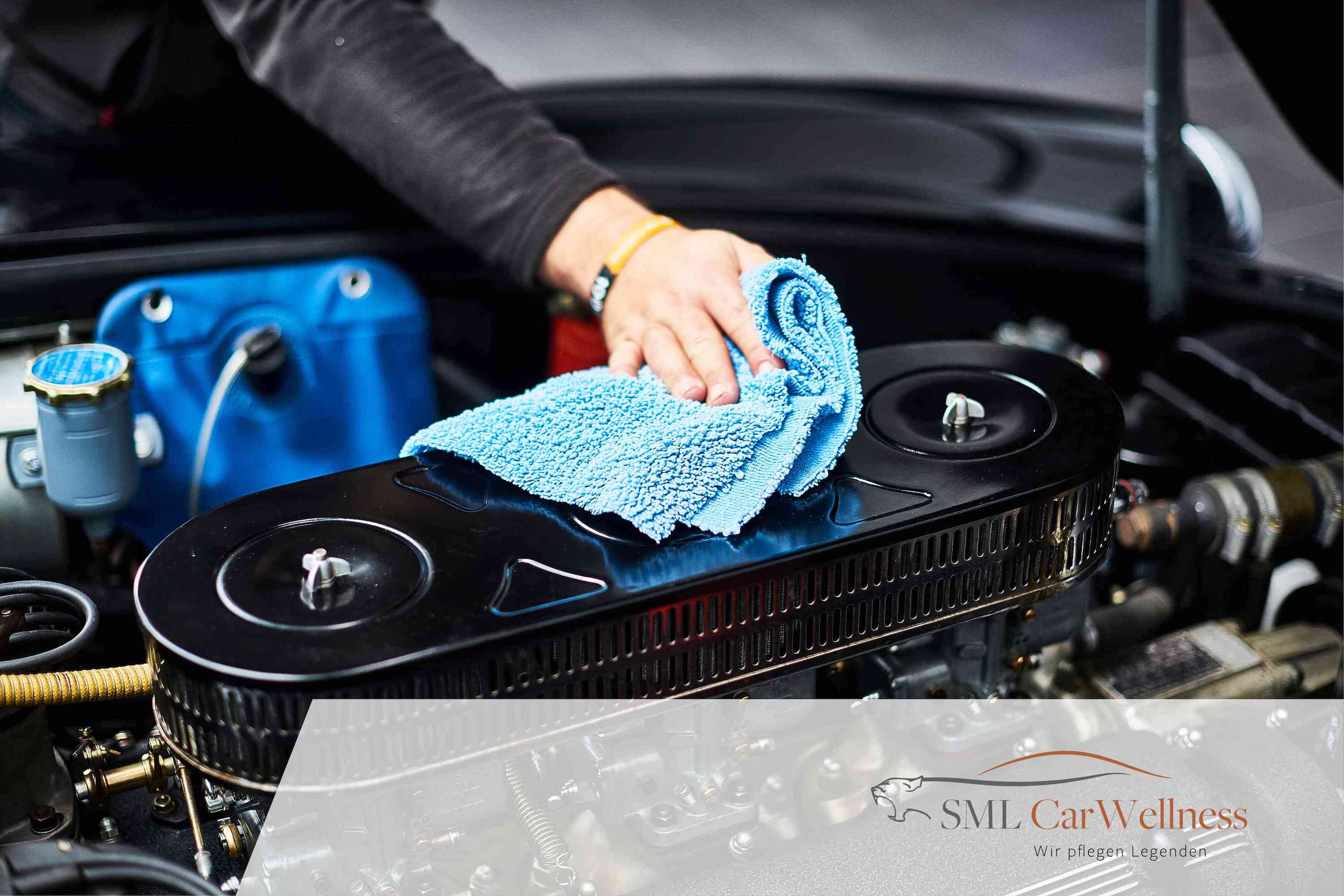 SML CarWellness – skilled craftsmanship and cutting-edge technology combined.
Car workshop and exclusive premium car detailing.
The diverse services offered by our company today are based on SML CarWellness. When we started out, we relied solely on our employees' manual skills to provide care for veteran cars, modern classics and luxury sports cars. Today, we combine our workshop crew's many years of experience with optimal processes and cutting-edge technology. This enables us to consistently offer the best results when detailing high-grade vehicles.
The highlight in our vehicle care is what is known as a light tunnel, unique in the industry and otherwise only used by vehicle manufacturers. Each vehicle also undergoes a quality check by our company owner, Simon-Markus Loh, in person before it leaves our workshop.
We increase the value of your vehicle thanks to our careful professional car valeting. Ideal if you want to keep your prized possession as long as possible or if you want to sell it in the near future.
In our own specialist vehicle workshop, our car mechanics take care of the technical well-being of your vehicles. Whether service, maintenance, inspection according to the manufacturer's specifications, SMART repair, certifications or general inspecion (TÜV) – our know-how in the workshop ideally complements the range of our car detailing and ensures carefree all-round service for your vehicles.
Our services
⊕ Car valeting/full detailing
⊕ Vehicle cleaning, including manual exterior wash
⊕ Rim cleaning and tire care
⊕ Paintwork analysis, paintwork care, manual paintwork restoration
⊕ Spot-Repair
⊕ Machine high-gloss polishing and buffing
⊕ Surface sealing (nano sealing, ceramic sealing)
⊕ Paintwork protection and vehicle wrapping
⊕ Engine compartment cleaning
⊕ Dry-ice blasting
⊕ Convertible top cleaning and waterproofing
⊕ Chrome polishing and reconditioning
⊕ Passenger compartment cleaning, valeting, waterproofing
⊕ Leather and fabric care
⊕ Car service, technical maintenance
⊕ SMART Repair
⊕ General inspecion

We are also able to offer many other services and complete packages in cooperation with our exclusive partners. We are your expert point of contact for all aspects when it comes to your vehicle's well-being.
Our premium car detailing
The SML CarWellness quality process for perfect cleanliness
We have succeeded in uniting optimal processes, our employees' exceptional craftsmanship and state-of-the-art technology and materials at our new company headquarters. This ensures that we can reliably offer the best results in full detailing for high-grade vehicles. Vehicles are cleaned down to the tiniest detail with a multi-stage process established for this purpose.
Initiate your personalised request now.
Vehicle reception
One of our specialists is always present when the vehicle is received. The specialist takes the vehicle from the customer and talks through the subsequent procedure with them. The timing and budget are also discussed. We always prioritise the customer's wishes and requirements.
Exterior cleaning
The first step in car valeting starts in our cleaning box. After an initial pressure wash, each vehicle is washed again, this time by hand. We attach great importance to highly precise, detailed work from the outset. Ultimately, only a truly clean vehicle will have been valeted properly. That's why we remove all wheels, for example, so that we can clean all tricky parts such as rims and wheel arches thoroughly.
Paintwork analysis
Before the paintwork is treated, we produce what is known as an electronic paint analysis. This process gives us a precise idea of the vehicle's condition. Each measurement at the different measuring points is documented. Every customer is given this analysis with their documents. Measurements can also be taken for plastic or carbon parts. In this way, our trained specialists know how they need to recondition the vehicle to an optimum extent.
Light tunnel
LED light tubes are used to light up and meticulously analyse all vehicles – an innovative process that is doubtlessly unique in the car valeting industry in Germany. This process produces a clear picture of the vehicle surface. Uneven surfaces or paintwork damage can be detected down to the tiniest detail. The numerous LED lights can be adjusted to each test requirement.
Exterior detailing
Before polishing begins, all non-metal parts are fully masked to ensure no traces of polish are left behind. The paintwork is treated in stages with eccentric and rotary machines. The requirements for this process are based on the results from the paint analysis and the light tunnel at all times. A continuous paintwork analysis throughout the treatment process ensures a premium-quality finish.
Interior detailing
This is where an eye for detail truly counts. Coarser dirt and stains in the passenger compartment can be removed permanently, even from seats, using state-of-the-art dry ice blasting technology. Dry ice pallets use high pressure to ensure that even stubborn dirt evaporates. Specialists work with a deft touch and high precision when cleaning the passenger compartment.
Quality control
True to the maxim "two heads are better than one", at least two employees inspect every vehicle during our quality control after the vehicle's wellness treatment.
The company owner then carries out the extra final inspection in person. No vehicle is handed back to a customer without this check. All documented work steps are reviewed yet again during the final inspection.

Handover to the customer
This is an important moment for our customers and our employees. Each vehicle is handed over personally by one of our SML CarWellness experts. Every step is explained in detail, and the vehicle is delivered in top condition. Once the whole process is complete, the customer can sense the enthusiasm we have put into their vehicle.
We look forward to hearing from you.
Max-Eyth-Straße 9
D-71735 Eberdingen-Hochdorf
Join the Community!
#smlcargroup